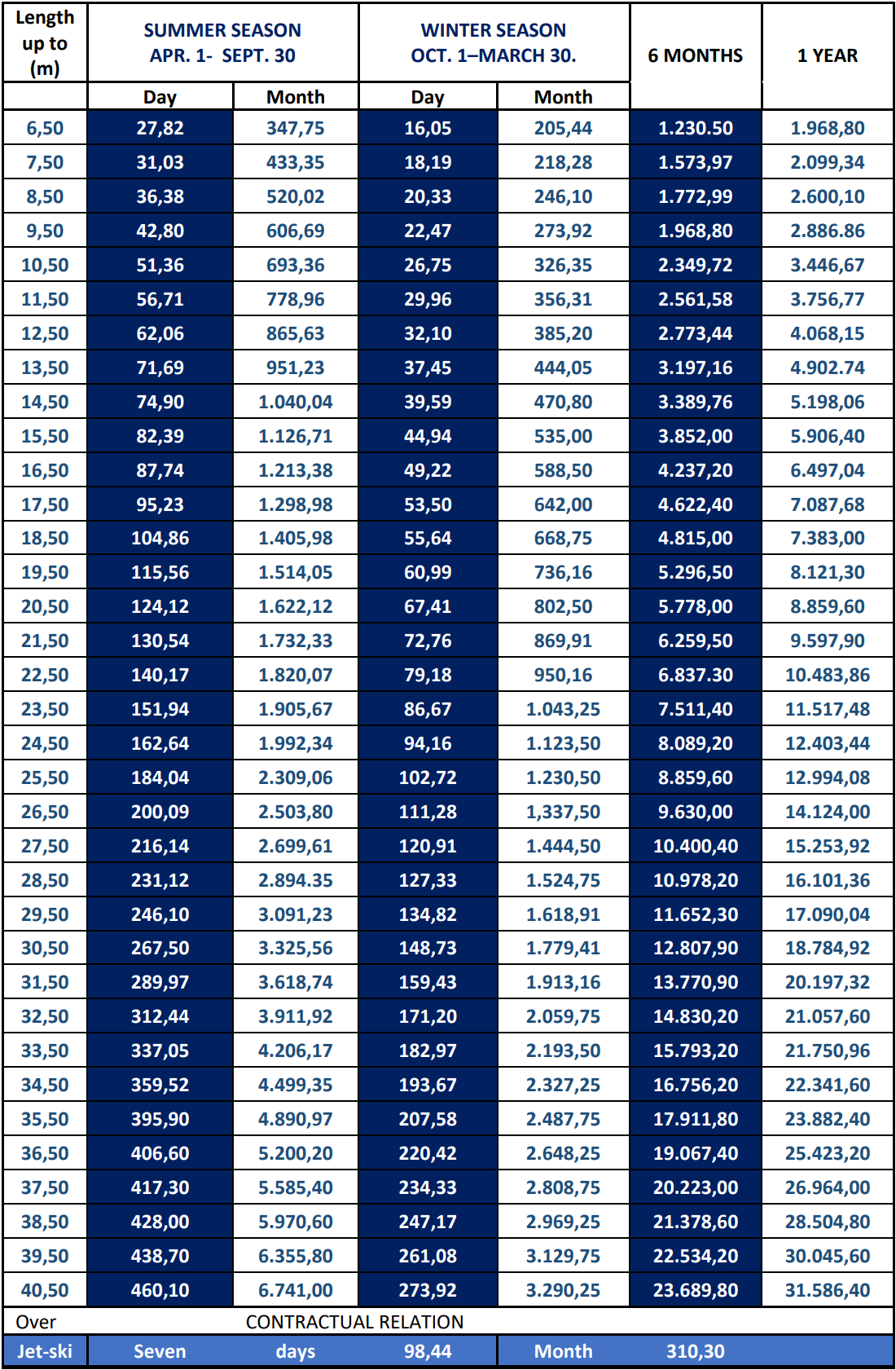 Payment terms
Note: Prices are in EUR, VAT 7% is included in the price
Use of berth is payable in advance with effect from the date of signing the berth contract;
The Marina grants a 5% discount for an annual berth, subject to advance payment in full. This discount excludes any other discount.
In case of early cancellation of the berth, contract Clients are obligated to pay the full contractual liability and they are not entitled to refund of the deposited funds;
Catamarans are charged 70 % extra on the current price.
Clients are required to pay 20% advance payment of the amount of the calculated price in order to make an early booking of the berth. In case of cancellation, no refund is payable.
The Marina keep the right to amend prices without prior notice
Daily berth
Charge for daily is effective for payment from the moment of arrival until 14:00h the following day.
Reporting departure of the daily berth is obligatory until 14:00h on the day of departure.
Payment: Accommodation after 14:00 is charged as follows: extra 50% of the daily berth rate is payable for accommodation until 19:00h, after 19:00 h it is charged at the daily berth charge rate.
Dry berth – storage on the land – open area
Use of dry berth is charged at the same rate as wet berth and the Marina reserves the right to hire out the sea berth for the specified period of use of dry berth;
The charge includes the use of water, toilet.
Annual and semiannual contracts for accommodation on land are concluded with the AD Marina Bar.
In case of early cancellation of berth contract, Clients are obligated to pay the full contractual liability and they are not entitled to refund of the paid funds;
The Marina keep the right to amend prices without prior notice
Yacht services:
Boats are located in the service area.
Clients must contact administration of the Marina Company for service and repair of boats;
Clients are not allowed to carry out any operations on their own without prior approval given by the Marina;
Yacht services:
Boats are located in the service area.
Clients must contact administration of the Marina Company for service and repair of boats;
Clients are not allowed to carry out any operations on their own without prior approval given by the Marina;