GPS 42° 05' N 19° 05' E

    VHF Channel 09
Marina Bar
Marina Bar is positioned in one of the most beautiful parts of Montenegro. It presents the first and the biggest nautical and tourist centre, located at the entrance to the Adriatic Sea, 104 NM from Otrant door. With  270 sunny days per year is one of the sunniest nautical port in the Mediterranean and ideal place for active leisure and activities, hiking, kayaking and visiting the many cultural-historical sites and cultural events. Due to its favorable and attractive geographic position, the Marina Bar is an ideal and safe departing port for navigation of the picturesque  Montenegrin coast.
Dry Berth
We will make sure that your vessel stays fully prepared for your next departure from the marina.
Sea Berth
With 1000+ sea berths, Marina Bar provides a safe refuge for boats up to 45m lengths.
Technical Services
We provide tailored services, such as, engine maintenance and repair, general cleaning, and many more.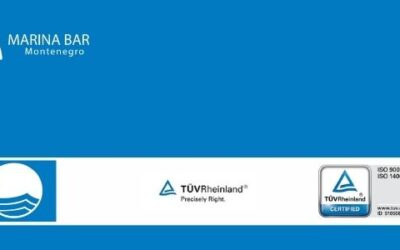 AD Marina Bar postala je dobitnik veoma važnih međunarodnih sertifikata kao što su ISO 9001:2015 i ISO  14001:2015 vezano za implementaciju...